Rutile
The rutile (TiO2) crystal structure type
Crystal structure data from:
R. W. G. Wyckoff, Crystal Structures (1963) Second edition. Interscience Publishers, New York. 1:239-444
Wikipedia: Rutile, Titanium dioxide
Housecroft: pp. 169–170
Shriver & Atkins: pp. 87
Smart & Moore: pp. 37–39
Greenwood & Earnshaw: p. 961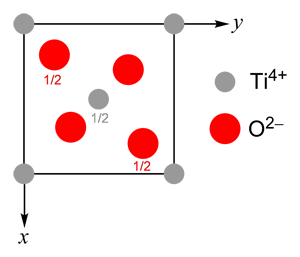 The rutile structure can be thought of as a distorted hexagonal close packed array of anions, with half the octahedral interstices filled by cations, resulting in a tetragonal lattice.

Every anion is surrounded by three cations and has a distorted trigonal planar coordination geometry. Every cation is surrounded by six anions in a distorted octahedral arrangement.

Compounds adopting the rutile structure include the dioxides tetragonal GeO2, CrO2, IrO2, MoO2, NbO2, β-MnO2, OsO2, VO2 (above 340 K), RuO2, and the difluorides MgF2, CoF2, FeF2, MnF2.